Division
Digital Buildings
The customer
Kiesel GmbH group
The sector
Construction machinery
The solution
Smart network and security technology
The challenge
To deliver the network infrastructure and video surveillance for the new campus buildings at the Coreum World of Construction Machinery, as well as network connections and IT security solutions covering the entire campus
Description of the solution
A complete network infrastructure (with fiber-optic and copper cables, server racks, switches and WLAN access points) and high-end IP video surveillance cameras for the new buildings; campus-wide fiber-optic connections, including active technology, and state-of-the-art firewalls with access rights management
"It was impressive to see that all the trades were immediately ready for operation and functioned fully without exception."
Björn Hickmann, holder of general commercial power of attorney at Coreum GmbH
euromicron equips campus with cutting-edge network and security solutions
With the Coreum World of Construction, the Kiesel Group has created an innovative exhibition, training and conference center that is intended to become the heart of the construction machinery industry. The system house company euromicron Deutschland implemented an extensive network and security architecture based on the platform solution Cisco Meraki on Coreum's campus.

The Kiesel Group, which is headquartered in Baienfurt (Ravensburg district in Upper Swabia) boasts a 60-year history. Founded in 1958 as a pure service station, the family-owned company now sells construction and material handling machinery throughout Europe. Around 1,000 employees at 38 locations in Germany and three foreign branch offices in Poland, Austria and Switzerland cater for customers from 17 countries. Leading international machinery manufacturers, such as Terex Fuchs, Hitachi, Bell and Tobroco, are longstanding partners of the group. Kiesel has now reached its next milestone to mark its 60th anniversary: In October 2018, the machinery specialist opened an exhibition, training and conference center that is to become a lighthouse in the construction machinery industry on a 160,000 m2 campus in Stockstadt near Frankfurt/Main; the Coreum World of Construction Machinery. The heart of the campus is a forum building that is home to catering facilities, as well as conference and event rooms. The Kiesel Group's technical service center is also housed there, as is a special highlight: an indoor excavation site. The campus also boasts a logistics center, a 80,000 m2 outdoor construction machinery park with demonstration building sites, and a factory in which customized conversion work is carried out. The logistics center was erected back in 2012, whereas the forum, factory and construction machinery park were completed in 2018. The final piece – a recycling park – is to be added in 2019.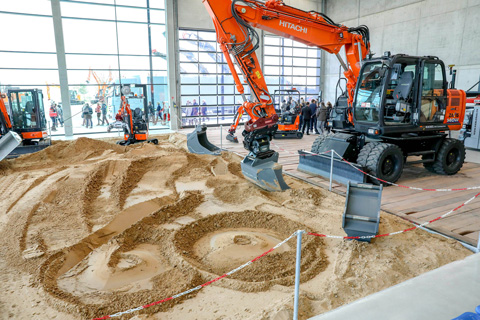 In line with its mission of establishing an innovation center that would set trends in the industry, the Kiesel Group wanted to equip the Coreum's buildings with leading-edge network and security technology. The order for the trades in question was awarded to euromicron's system house company euromicron Deutschland GmbH. The IoT specialist designed and delivered an all-rounded solution using the cloud-based network architecture Cisco Meraki. It is offered by euromicron as a managed service at a lump-sum price, is intuitive to use, and enables company networks to be set up and managed from a central dashboard. So that this architecture could be established, all the new buildings on the campus were first equipped with cutting-edge network infrastructures – from fiber-optic cables between the technical rooms and connecting copper cables to server racks, switches and WLAN access points. euromicron then installed high-end IP surveillance cameras and integrated them in the building networks. All the buildings were then networked across the entire campus via fiber-optic cabling along with active technology. The final step was installation of high-performance firewall technology with a refined access rights management system that ensures IT security throughout the campus. euromicron installed a total of 24 access and core switches, 52 WLAN access points, 28 surveillance cameras and two firewall gateways.
Before the turnkey network and security architecture could be handed over, an unexpected challenge had to be overcome: The completion deadline for all construction work was brought forward by several weeks at short notice so that the Coreum could be opened on time for the celebrations to mark Kiesel Group's 60th anniversary. Yet euromicron also mastered that task in commanding and reliable fashion. And so the customer's verdict was a satisfied one: "All installation work was carried out in a highly professional manner, and it was impressive to see that all the trades were immediately ready for operation and functioned fully without exception," says Björn Hickmann, holder of general commercial power of attorney at the operating company Coreum GmbH. euromicron's project manager Michael Ries is also delighted to hear that: "Our customer's satisfaction is the greatest motivator for us. We'll be happy to support the Kiesel Group in future with our know-how in the field of smart buildings."