Division
Digital Buildings
Project
Construction of a new office building
The sector
Real estate
The solution
Danger management and security technology
The challenge
Equipment of a state-of-the-art office building with an integrated solution to enhance efficiency and building security over 28,000 square meters.
Description of the solution
As an integral part of the Internet of Things, digital and smart buildings are far more than a combination of subsystems and a central depot for collecting information. Security systems, such as video surveillance, a fire alarm system or access control, no longer stand unconnected alongside each other, but are digitized and integrated in unified, highly available overall systems.
"That was a very challenging project. We delivered a concept tailored to the customer's specific requirements and created a smart building in the truest sense of the word. There are only few properties that are so complex in Germany."
Alexander Schnopp, Project Manager euromicron Deutschland GmbH
euromicron equips an office complex with intelligent security technology
Consequently, true smart buildings are distinguished by their efficient setup, state-of-the-art equipment, and convenient, secure use. At the same time, future-proof buildings must be flexible so as to enable later expansions without any impairment to ongoing operation. Integration of various control systems results in significant synergy effects in many cases. Standardized management and monitoring processes reduce work and costs. That means users can fully grasp arising situations and solve them optimally. IP-based concepts are increasingly displacing conventional automation solutions and systems. Forerunners here are modern, smart buildings that offer employees new possibilities for improving convenience, energy efficiency and security.
Berlin. Humboldthafen 1. The modern office building erected here is one of Germany's top ten green buildings in the office sector. That's not due to the color of its facade, but its design and technical equipment, which minimize power consumption. That also goes for security in the building: high-end and really smart. The latter aspect is no light matter. euromicron Deutschland has equipped the office complex over a total area of 28,000 square meters with smart security technology. That includes the burglar alarm system, access control, video technology, escape route technology and a danger management system. The systems communicate via several firewall zones in the internal IT network so as to ensure maximum
Optimized work and security processes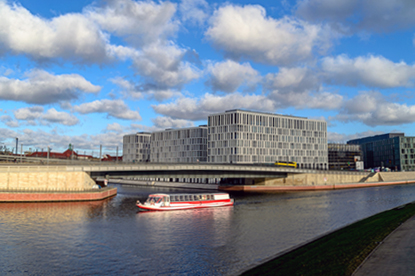 In such a large office complex, one prime goal is to safeguard data and business operations, as well as protect people. The objective was therefore to achieve the highest-possible level of security with an intelligent concept and completely reliable technical solutions. The solution's heart and brain is the danger management system euromicron has integrated in the overall system. It receives messages from all security-related technical facilities in the building – for example from the almost 100 indoor and outdoor video cameras and over 200 doors where unauthorized persons are to be stopped from gaining access. The building is divided into more than 35 security zones where access rights are strictly assigned and protected by multiple means. Insightful real-time images are supplied by means of video surveillance. Security personnel can quickly size up the situation and take action in accordance with defined instructions. Priority 1 operating and security messages are transmitted redundantly to a VdS-certified control center in a German city.
It's not only people that may pose a danger to companies. euromicron has set up an early-warning system, for example, against the ingress of water and changes in temperature in rooms containing sensitive power distribution panel boards or servers. Errors or even potential ones are reported before damage arises so that operations are not put in jeopardy. The technical term for that is Predictive Maintenance.
"That was a very challenging project. We delivered a concept tailored to the customer's specific requirements and created a smart building in the truest sense of the word. There are only few properties that are so complex in Germany."
Alexander Schnopp, Project Manager euromicron Deutschland GmbH