Division
Critical Infrastructures
The customer
Infotech EDV-Systeme GmbH
The sector
Public sector
The solution
Infrastructure components for a FTTH network
The challenge
Powerful FTTH infrastructure elements that can be adapted to local circumstances quickly and easily.
Description of the solution
SKM Skyline delivered modified, optimized multifunctional cabinets, including the technical equipment and pre-assembled fiber-optic cables, for the service connection in order to enable broadband expansion.
"We had great expectations of the products, and adaptability to local circumstances was especially an important criterion for us. SKM Skyline's solution met our requirements to our utmost satisfaction."
Stefan Eckerlein, who is in charge of network planning at Infotech
Contact
SKM Skyline GmbH
Phone. +49 89 431982-0
info [at] skm-skyline.de
www.skm-skyline.de
euromicron's subsidiary SKM Skyline supports Infotech's Cybercity project
The Cybercity project of Infotech EDV-Systeme GmbH envisages broadband expansion for large parts of the Innviertel region in Upper Austria. Multifunctional cabinets with flexible locations are used to distribute the connections in the municipalities. They are configured and supplied by euromicron's subsidiary SKM Skyline.
A comprehensive broadband network is generally regarded as a crucial economic factor. Yet high-speed Internet is still wishful thinking in many places – as is the case in the Innviertel region in Upper Austria. The Cybercity project by Infotech EDV-Systeme GmbH is to change that and supply more than 30 municipalities in the region with broadband via fiber-optic lines. The company from Ried is benefiting from its excellent local knowledge as part of that, offering solutions tailored precisely to circumstances on the ground. That will ensure that all interested citizens and local companies will be connected when the fiber-optic network Infotech is creating has been completed – up to 20,000 FTTH connections are to be implemented by the end of 2022. So as to provide private and corporate customers alike with a connection suited to their exact needs, Infotech is offering point-to-point (PtP) and point-to-multipoint (PtMP) cabling. The PtP architecture is in particular of interest to enterprises, since the bandwidth can be increased almost infinitely with it.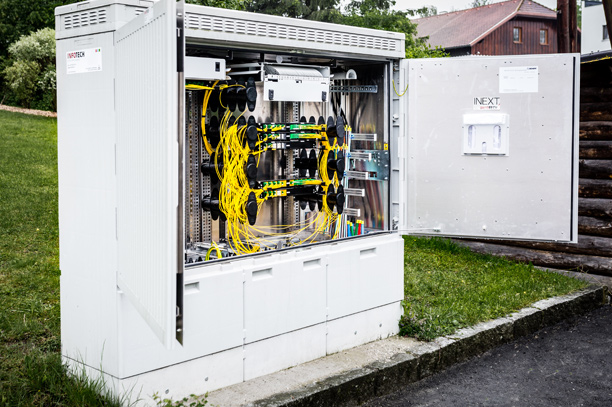 Ideal adaptation of the fiber-optic solutions to local conditions also demands FTTH infrastructure elements that can be tailored flexibly to the specific customer's wishes. That goes especially for the main nodes connecting the central fiber-optic cable to the individual branch cables. Infotech decided here in favor of multifunctional cabinets with flexible locations that can be installed relatively quickly and easily at the side of roads and so in a central location. That is a great advantage: The shorter the cable route from the main node to the service connection, the more efficiently installation can be accomplished. A multifunctional cabinet is also far more cost-effective than alternative solutions where the network technology is installed in a specially erected building, for example. Unlike when it is installed in leased premises, the ownership situation is clear. That is a crucial advantage, since the technology can be accessed at any time.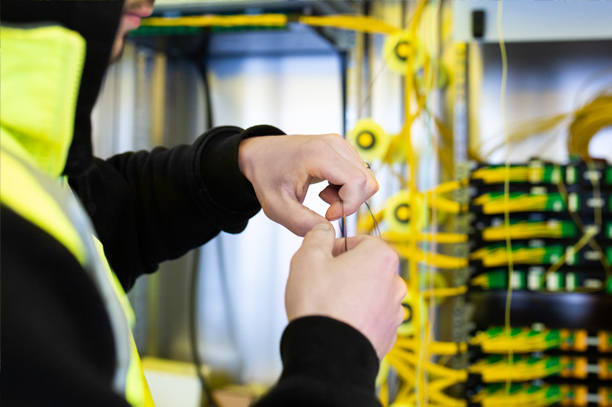 euromicron's subsidiary SKM Skyline GmbH was awarded the contract to supply the multifunctional cabinets, including the technical equipment for the passive and active cable distribution boxes. As an experienced technology partner in the field of broadband expansion, SKM prepared all the cabinets and components systematically so that they could be customized precisely to the special circumstances of each area. For instance, the capacity of the weather-proof multifunctional cabinets was improved and they now offer an above-average port density enabling up to 300 FTTH connections per cabinet. PtP and PtMP architectures can now be implemented alongside each other without any problems. The around 60 multifunctional cabinets are fitted with identical products, while all the components are supplied pre-assembled and can be installed right away – meaning no further adaptation work on site is required. As a result, the data network can be expanded far faster, and repairs or adaptations to the multifunctional cabinets can be carried out at any time without disruption to network availability for customers. The order has a volume of around €1.9 million and includes fiber-optic cable systems that have been optimized for incorporation in the pipe system and so make the connection work easier.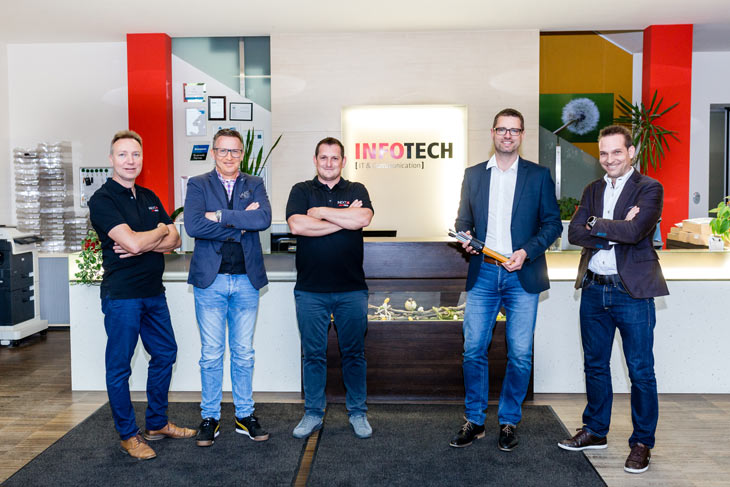 Stefan Eckerlein, who is in charge of network planning at Infotech, is especially impressed by the complexity and quality of the network components: "We had great expectations of the products, and adaptability to local circumstances was especially an important criterion for us. SKM Skyline's solution met our requirements to our utmost satisfaction."