Division
Other References
Customer
R-KOM
Industry
Regional providers
Solution
Conversion to dense wavelength division multiplexing (DWDM)
The challenge
Conversion of R-KOM's intraurban network to DWDM without the possibility of parallel operation of the old multiplexing devices.
Description of the solution
SKM preconfigured the MRV OptiDriver® multiplexing devices in the test lab and then installed them in the network nodes. As a result, R-KOM's intraurban network was able to be converted to DWDM in two overnight actions – with the services only being interrupted for one to two hours each time.
"The decision to engage SKM once again proved the right one. We've set standards with our DWDM solution."
Dipl.Ing.(FH) Stefan Jäckisch, Network Operations Manager at R-KOM
euromicron subsidiary SKM Skyline optimizes data transmission in R-KOM's fiber-optic network
Regional telecommunications providers are successfully tackling broadband growth, as shown by Regensburg-based R-KOM with its switch to DWDM, currently the most powerful wavelength division multiplexing method. euromicron's subsidiary SKM Skyline was responsible for implementing the project.
The Internet and telecommunications provider landscape in Germany is characterized by enormous diversity. Alongside nationwide providers, hundreds of regional ones, often with a municipal background, have long been established on the market. All of them have one thing in common: to address the constant increase in bandwidth needs despite falling revenues.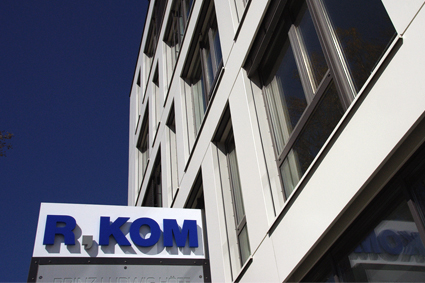 Outside their catchment area, local providers usually only mean something to experts, but in their region they fulfill important supply functions. It is not rarely the case that they operate their own networks and are pressing ahead with expanding broadband access, even in structurally weak rural regions – a step nationwide providers are often not willing to take. One of these regional providers is Telekommunikationsgesellschaft mbH & Co. KG (R-KOM) from Regensburg. Founded in 1997 as a municipal company of Regensburg City Council, it has successively set up FTTx (fiber to the building / home / curb) networks in Eastern Bavaria that now supply more than 10,000 private and corporate customers with broadband Internet and telecommunications services.
In 2015, the company decided to gear its network's fiber-optic infrastructure uncompromisingly to further growth. In future, R-KOM is to have the option of implementing Gigabit connections in the private customer arena. As a first step, the intraurban networks between the local metropolitan networks were provided with new power reserves. Since only fiber-optic pairs with just one fiber per direction are available in them, higher rates could not be achieved by means of parallel transmission over multiple fibers. R-KOM therefore set store by optimizing the optical wavelength division multiplexing method. It chose dense wavelength division multiplexing (DWDM), implemented on the basis of the DWDM platform OptiDriver® from MRV. DWDM is currently the most powerful multiplexing method and – as the name suggests – is characterized by parallel data transmission over a large number of wavelengths that lie close to each other. Data is transferred in the R-KOM network both by means of the conventional TDM method (SDH) and state-of-the-art Ethernet technologies (MPLS-TP).  Transmission rates of 100 / 1,000 Mbit/s and 10 Gbit/s per fiber-optic link are to be achieved initially with the new technology. However, up to n * 40 or n * 100 Gbit/s are possible down the road.
R-KOM tasked its longstanding technology partner SKM Skyline with the conversion to DWDM. The euromicron subsidiary is a specialist for fiber-optic infrastructures and, as an official partner of MRV, has extensive experience in delivering DWDM solutions based on OptiDriver®. That specialist know-how made it easy for SKM to accomplish even the greatest challenge in the project reliably: Since only one fiber-optic link per direction was available, conversion to DWDM could not be achieved with parallel operation of the old and new multiplexing method. Instead, a high-speed migration with as short an interruption to the Internet and telephony services as possible had to be achieved. To ensure that, the multiplexing devices were preconfigured and underwent a thorough examination in R-KOM's test lab. They were then able to be installed in the network nodes. Thanks to that preliminary work, R-KOM's intraurban network was able to be converted to DWDM in two maintenance windows with minimal interruption to the services.
R-KOM was highly satisfied with how the conversion work went and its results in every respect. "The decision to engage SKM once again proved the right one," stresses Network Operations Manager Stefan Jäckisch, who was in charge of the project. "We've set standards with our DWDM solution and again demonstrated that regional providers are more than a match for the large ones." As a result of the customer's positive experience, SKM Skyline has already been awarded the follow-up contract for conversion to DWDM in Regensburg city.